Nowadays, SEO automation is a vital part of an organic strategy to ensure that you stay on top of performance and what's happening on a site. So much so, it was one of my top tips for SEO strategy in 2019.
There is nothing more frustrating than looking at a performance report and spotting a drop caused by a development mistake detrimental to performance.
Nothing is more tedious than continuously checking performance daily or repeatedly crawling a site to ensure nothing has gone wrong.
---
The approach with these things is never to do tedious tasks that you can automate with tech. The benefits of investing the implementation time at the start far outweigh the time it would take to do the work manually.
That way, you can instead focus on doing work that improves performance, rather than site and performance management work that focuses on making sure nothing has gone wrong.
Unfortunately, automation sounds scary and something that you would think a developer is required for.
The good news is, nowadays, that isn't the case.
The amount of tools available to digital marketers that make automation easy is getting pretty competitive, which can only be good!
In this post, we're going to run through some automation tips that you can take advantage of to make your monitoring efforts easy.
The key tools required
There are a wide variety of tools that can aid you with automation. I'll run through the key ones I use within this post.
There are, however, a couple that I view as essential, Slack and Integromat. Whilst Slack isn't a tool for automation in itself, it's the best place to collect automated messages from other tools on what they find.
Yes, these can just be emailed to you if you aren't a big Slack fan. But the benefit of having messages sent to specific channels with all the right people in them to respond is pretty invaluable.
Performance management automation
Integromat
Integromat comes first on the list when it comes to performance automation.
The learning curve is a little steep, but once you've got the hang of it, you'll soon be creating all kinds of automated alerts that let you know when anything changes.
The real benefits of this tool come from the number of different APIs it works with. I mainly use the Google Analytics integration alongside their custom JSON connector to pull data from the SEMrush and Sistrix API to compare week-on-week changes.
How does it work?
Integromat have a wide variety of videos that show how the platform works. Watch those if the below interests you.
Rather than repeating those, I'll show you a simple Google Analytics connector that every Monday compares last weeks Google Analytics data to the previous week and sends a Slack message.
Here is an overview of how the Integromat 'Scenario' works: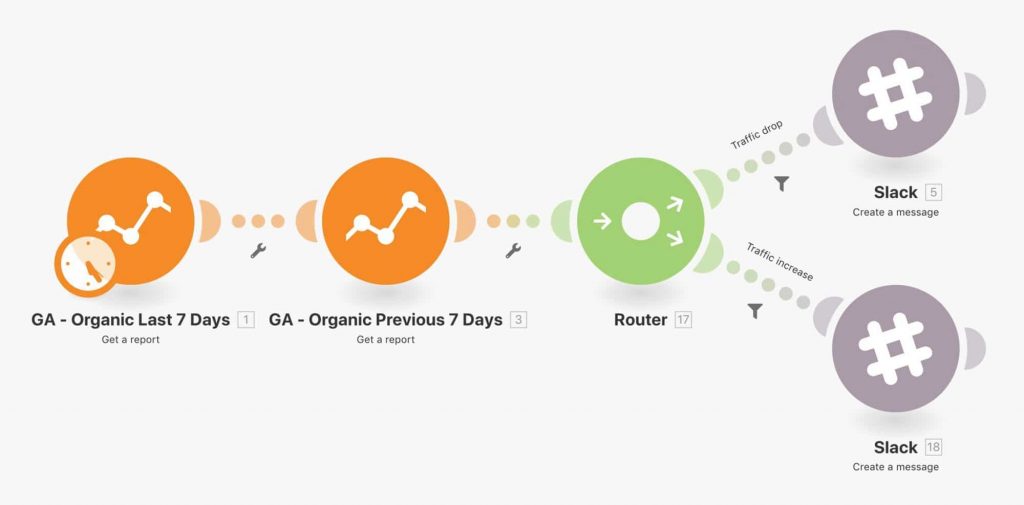 It may look a little confusing a first, but I'll break it down. First, we set up a Google Analytics module with the following settings to get all data from the last week.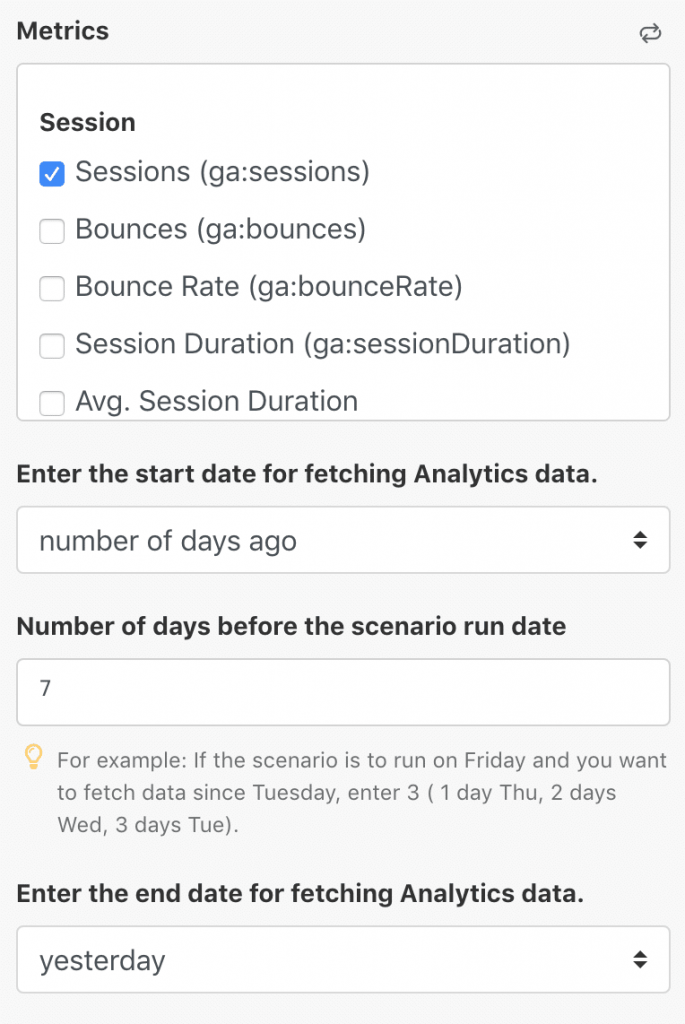 Next, add another Google Analytics module that grabs the week previous to the above.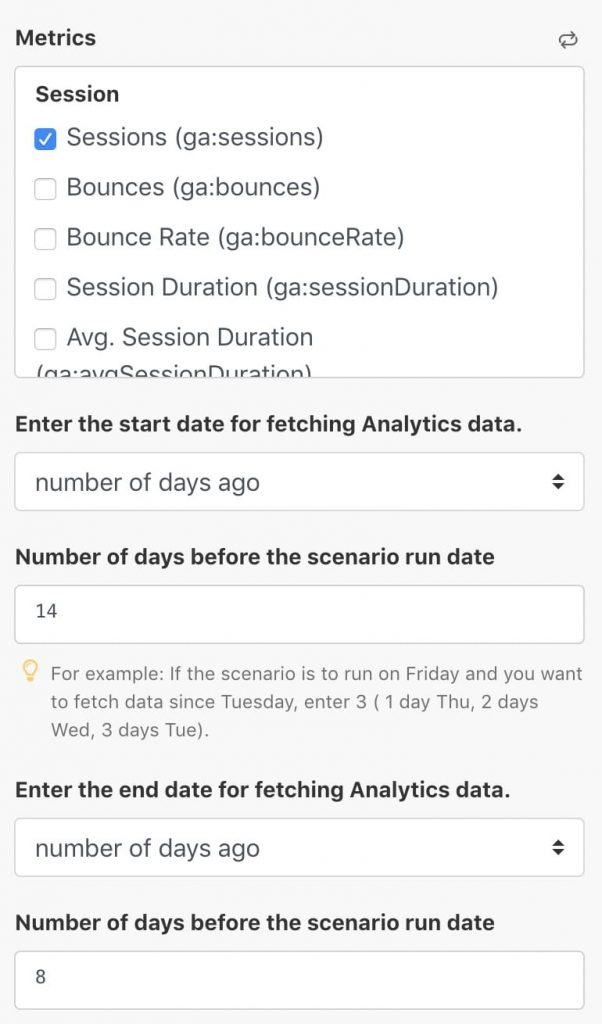 After that, you need to set up a 'Router'. This module will change what happens next depending on the data gathered so far. After creating a router, attach a Slack module with the following settings.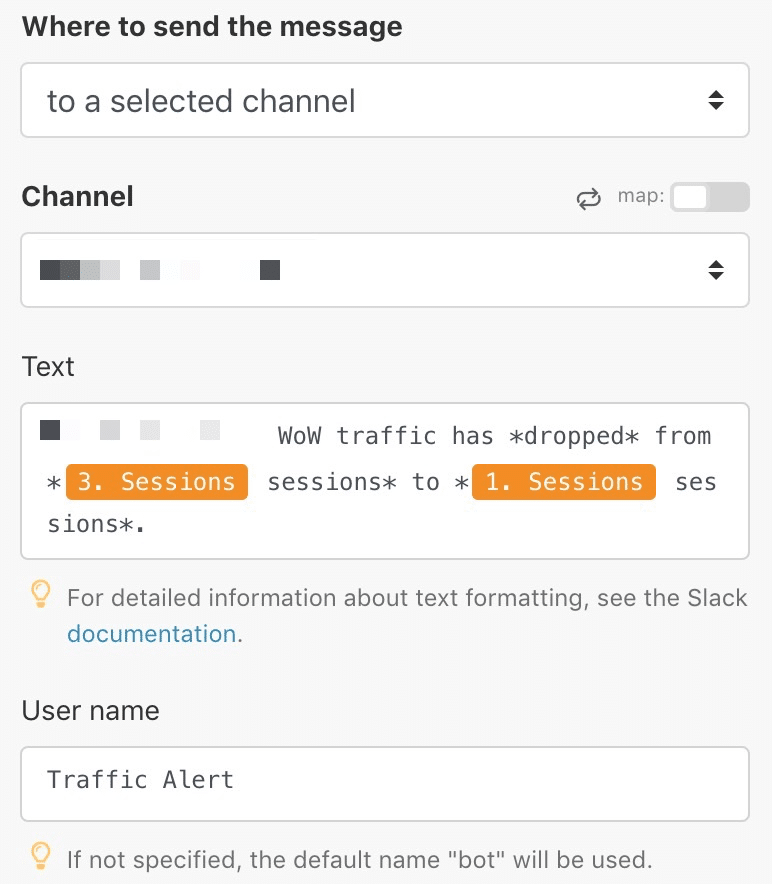 Then, create a filter by clicking between the router and Slack module with the following conditions.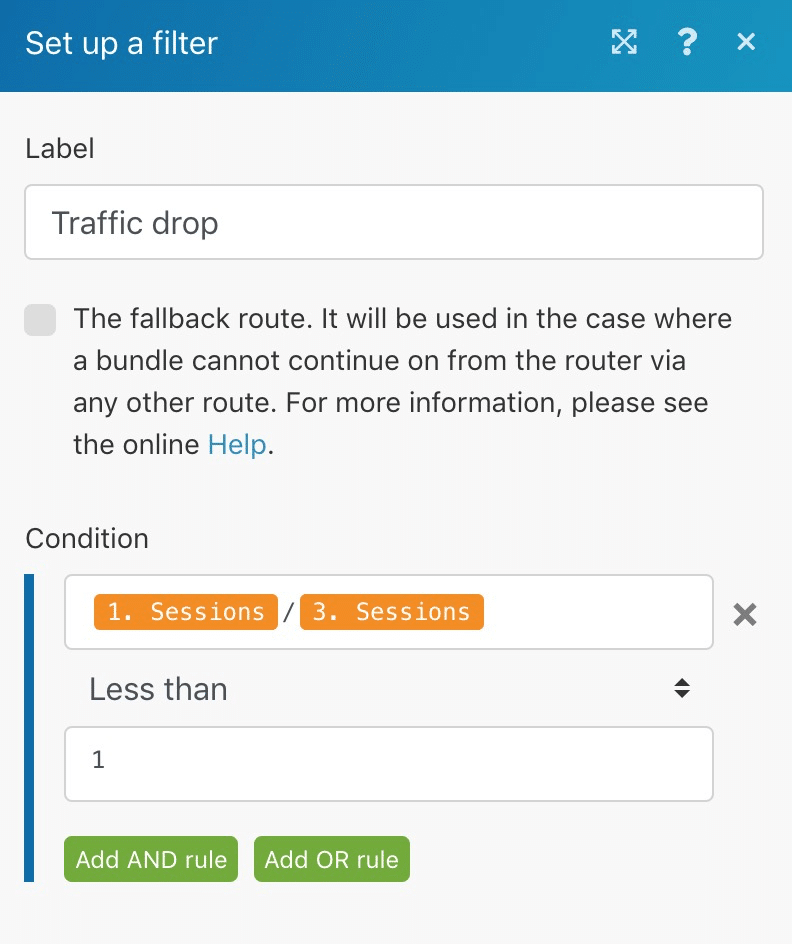 Next, create another Slack module connected to the router with a filter for greater than less than with slightly different messaging in the Slack module. After that, set a schedule, so this runs every Monday.
Voila! All done.
Google Analytics Alerts
Integromat is great if you want to integrate lots of different tools for alerts. However, if you're just interested in Google Analytics alerts, you can use the built-in system with Google Analytics. If you want some ideas on the kind of alerts you can set up, check out this great guide made by SEMrush on the topic.
Sistrix alerts
I'm a big fan of the Sistrix platform. It has loads of features, great data and isn't overly costly, especially compared to the competition.
The flagship feature of Sistrix is its visibility index that measures how well your site performs in search compared to your competitors. Built into Sistrix is also an alerts system based upon that index. This makes it a great way to monitor your site and the competition with minimal effort. Read this on the Sistrix blog to get you underway.
Rank trackers
Rank trackers are also a good way to monitor performance to see if rankings have been impacted. As far as I know, there isn't a rank tracker that has an impressive alerts system built in to make performance monitoring automation easy. Still, almost all of them have visualisations that show performance at a glance. Here are some recommendations:
Site monitoring automation
ContentKing
ContentKing is my favourite application when it comes to site monitoring. Whilst the site auditing tool space is pretty competitive, ContentKing has created a nice niche by offering real-time auditing alongside an excellent alerts system. The main benefit of ContentKing is that it tracks changes sitewide and alerts you as soon as anything changes.
Once you start using this tool, it becomes a pretty indispensable part of your workflow and saves you a lot of time. Always-on auditing is incredibly handy to help you spot when issues are fixed, or new problems are found.
Uptime Robot
You can probably guess what Uptime Robot does; it alerts you whenever a site you enter goes down. Best of all, it's entirely free for up to 50 monitors.
It can alert you based upon a ping, HTTP(s), a port or even a keyword on a page. If it notices anything changes, it can alert in various ways, including via Telegram, Slack or email. You can adjust how often it monitors a website all the way from just five-minute intervals up to twenty.
Little Warden
Little Warden is still a relatively new tool, but it's handy. I see Little Warden a bit like a monitoring bot on steroids. You can see all the different features and things it can monitor here.
If you're already using something like ContentKing, the main benefits of Little Warden come from things like the domain and SSL expiration checks and also things such as nameserver and MX record checks.
Other worthy mentions
The above tools are my favourites when it comes to site monitoring, but here are some other worthy mentions to take a look at:
Deepcrawl

- Well known and a great tool for site auditing, you can schedule crawls to happen as often as you want. It doesn't have an alerting system quite like ContentKing, so not quite as good there but a great tool nonetheless!

Botify

- Similar to Deepcrawl, it has some great additional features around log file analysis if you're interested in that.
Wrapping up
Hopefully, the above should get you underway with automating some of the more tedious tasks in your day-to-day SEO work.
Have more suggestions or clever automations? Comment below and let us know!